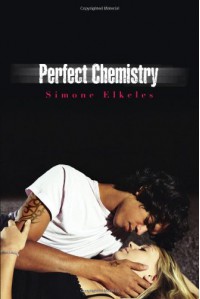 Perfect Chemistry
started off as every teenage girl's fantasy - that she is made lab partners with her crush. The only difference here was that Brittany didn't like Alex at all (except she thought he was hot, sigh) but the essence is same. I may not have read that many romance books but even I know that the concept of star-crossed lovers here was nothing out of the ordinary.
That is my only problem with it. Girl being the most chic person at school, her life from outside seems perfect because she is rich, gorgeous and the typical American High School cheerleader is like but she has many unseen problems at home which makes her a different person completely. And the guy being from the poorer side of the town whose life from outside is that of a mafia but from inside it is not. He actually is a very nice guy, with a nice heart; everything he does is to take care of his family blah blah…oh and not to forget he is ridiculously hot. Like all heroes are supposed to be. So, this concept has already been exploited by almost all the authors and I don't see why it is mentioned on the blurb that this book is "A fresh, urban twist on the classic tale of star-crossed lovers.", because it isn't. There is nothing new about it, it is still the same thing.
Moving past that issue,
Perfect Chemistry
is not a bad book, not at all. All that credit goes to Simone Elkeles whose writing specifically was very appreciable. She was able to change POV's successfully (thank God) and it didn't seem like she was having trouble doing it. Brittany and Alex's perspectives were very easily distinguishable. Mostly I found myself quitting romance books even before they began but this one was very nicely written and even after the very beat-up story I enjoyed it. I didn't have any sympathy for either of the characters, neither did I get butterfly in my stomach because Alex was a total to-die-for kind of guy. But overall the book was really fine, sometimes it is not necessary to have the most perfect characters if you can make the story convincing. After finishing it I wasn't disappointed or let down - well, I wasn't expecting that much from this in this the first place – but I was happy that it didn't turn out to be an utter waste of my time. Brittany and Alex's developing relationship felt very real to me and their love for each other didn't make me barf, that's a plus point but its epilogue did. Seriously, authors should stop writing epilogues if they can't handle it.
All in all, it was good for time-pass purpose but I don't understand why anyone would give it 5 stars and shelve it under favorites. I particularly don't like reading romantic books and I don't see myself reading its sequels ever but if I am bored and feel like reading something lovey-dovey I'll try another one of Simone Elkeles's series. 