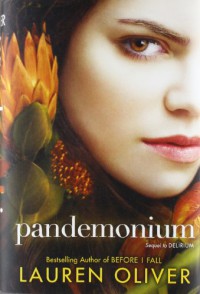 Oh my god! I can't believe it! I can't believe HOW MUCH of an improvement Pandemonium is from Delirium.
Delirium was so bad, that it'd convince you not to read the second book but thankfully I read Kat's review and jumped up to read this 2nd installment in Delirium trilogy.
Lena has matured so much. She had lost half of herself when Alex was taken away from her and after spending months in the wild she lost remaining of her qualities that made her a weak protagonist. Later she emerged as a strong kick-back, sensible person. She finally understood what was right and what was wrong..she learned to deal with difficult situations like Raven.
Despite the same flaws in the story that I had mentioned in the review of Delirium, that their society didn't give the feeling of a Dystopic society....illegal activities were taking place withing DFA and no one had a whiff about it. Nonetheless, I think this book was several times better than the 1st one and I'll be eagerly waiting for the third - Requiem.